Note : English is not my native language, grammar correction would be appreciated.
News : Guide started on 13 May, Finished on 16 May, Complete on 20 May.
Adding new section about resources (B.5.b.) and Coupons (B.5.c.) on 24 May.
Removed on 25 May, Revived with some removed content on 04 June.
Will not include War of Heroes patch
Index
Introduction

A. Basic


A.1. Race
A.2. Display
A.3. Building
- FAQ about ship refer section A.3.f.1.
A.4. Heroes
A.5. Skill

B. Beginner


- FAQ about PvP refer section

B.2.a


- Getting attacked frequently ? refer section

B.2.b


- Action Point (B.5.a.) Resources (B.5.b.) Coupons (B.5.c.)
- Player relationship (Galaxy, Muting, Unmute) refer section

B.7 and 9

I can't stand the wall of text, what should i do ?
Never skip the tutorial, now you must suffer

If you are new, you need to know the game
display (basic)
.
Read
Quick reference
In the end of this guide.
Beginner
section explain things "deeply"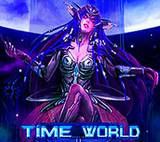 Refference :
WikiA
Aielamanshan
Help button (refer to section 2.D.3.)
Introduction
Time world is a Sci-Fi MMORPG with fully costumizable units, story campaigns, stunning graphics, and additive gameplay.
Time world developer is Playmage (server at
http://www.perfectgalaxy.com
).
What can you do here ?
Upgrading buildings, build ships, doing mission, Attacking or getting attacked by another player, gather resources, attacking the pillar,
getting the coupons.
A. Basic
1. Race
1.a. There is 4 race, they have an unique technology war device that can be upgrading beyond lv 25.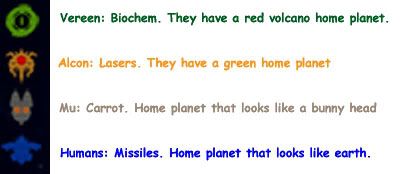 1.b. Are they equal ?
admin wrote:You can't directly compare the stat difference amounts as the math is not that simple. The attack bonus difference looks big compare to accuracy, but since attack potential is actually (100 + attack bonus) * accuracy, biochem weapons actually has the lowest attack potential, though it has higher lethality to compensate for it.

For example, let's look at level 25 comparisons.
Missile at level 25: 195% attack bonus, 95% accuracy
Biochem at level 25: 225% attack bonus, 80% accuracy.
While it looks like 30% extra attack bonus is bigger than 15% accuracy bonus, it's not true. Let's take simple average of 100 hits.
Missile = (1 + 1.95) * 95 = 280.25
Biochem = (1 + 2.25) * 80 = 260
This is because the final attack power of biochem is not really 30% stronger the missile, it's only about 15% stronger (2.25 vs 1.95), and missile actually hits 19% more often than biochem (95 vs 80).
Code: Select all

Lv 25 Weapon Comparison
Attack potential is (100 + attack bonus) * accuracy, average of 100 hits :
Missile = (1 + 1.95) * 95 = 280.25
Laser = (1 + 2.15) * 85 = 267.75
Biochem = (1 + 2.25) * 80 = 260
Carrot = (1 + 2.05) * 90 = 274.5
Note : This is doesn't including heroes skill e.g. hit skill.

2. Display
2.D1
Your racial character picture.
Army points
: How much ships that you can assign on your best 5 command/ war heroes.
Each ship class have its own point (refer to the shipyard section).
Power
: This is your total point, combination of buildings level, technology level, Hero's stat points
( your best 5 command/ war heroes) and army points.
Ranking
: Your power ranking in Time World.
Account name
and
Game progress
(%).
2.D2
Amount of your Credits, Ore, Energy, Action Point (regenerate every 15 mins.) and gold.
Red circle indicates that you're currently using special item (VIP card, talent card for double exp).
Special item stacked. (e.g. VIP S + M = 37 days).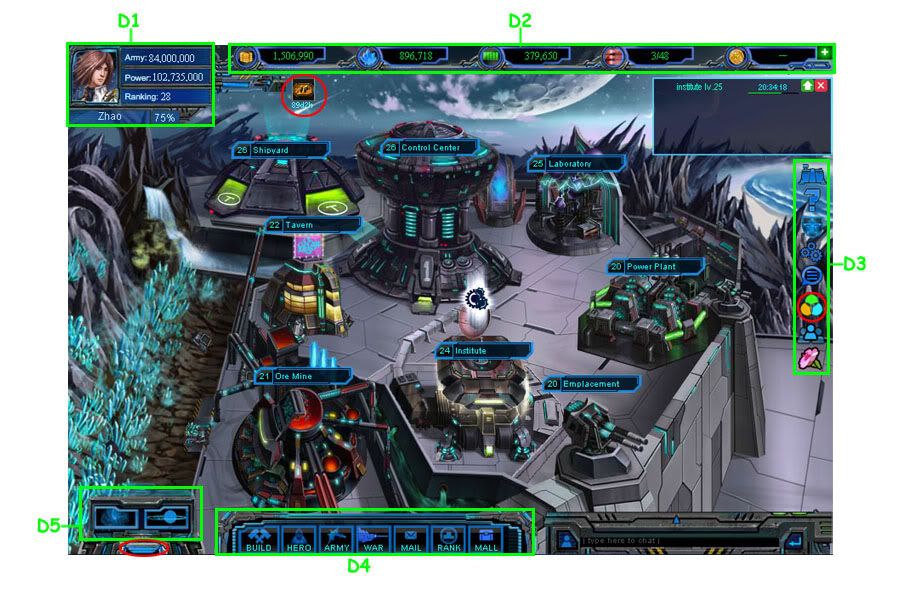 2.D3
Label button = show/hide your building's label (name and level)
Help button = Basic information of Time World (please read this for better information about the basic of this game)
Badge button (reward), Setting, Galaxy Message Board (GMB)
Collect button (red circle) = Collects resources from all buildings.
Assemble team button = form a team for the raid (refer to raid section)
2.D4
2.a. Hero button = Setting your hero attribute points, equipment. Inventory.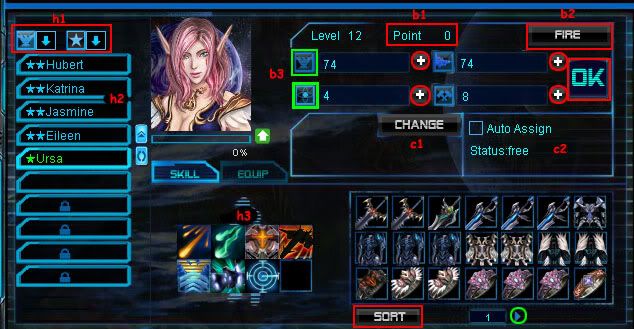 h1
has 2 buttons : to sort hero names by command or by grades.
h2
: click their name to show the hero page.
Note :
Hero slots and inventory need gold to expand.
You can expand a hero slots by adding 10 Time world friends on the Facebook (up to 3 slots).
h3
has 2 tabs : Skill slots (click the skill to upgrade or deleting it, refer to skill section
A.5.
) or equipment slots.
b1
: distributable points (you got this by leveling up, refer to hero section
A.4.
)
b2
Fired your hero
b3
green square : Attribute description (click to reset, gold cost depends on hero level).
There are 4 attributes : Command (let you assign more ships on this hero), War (attack and 50% defend point), Build and tech.
c1
Works like army button (assign your ships). Note : you can just decreasing your ships through this button.
c2
Auto assign will replace your ships to hero's max amount after the battle. Click to activate it.
2.b.
Army
2.c.
War (Mission)
2.d.
Mail
2.e.
Mall has 3 tabs
Goods > Spent your gold here
Equipment > Spent your credits here (refreshed every 1 hour for random items)
Coupons > Spent your coupons here
2.D5
Galaxy system to go to your guild page, Solar system button to visit your planets.
Red circle : Secret button, Memo